Carpets are an excellent solution for keeping your boat floors clear and making them outlast exposure to the marine environment and various outdoor factors. Bass boats are typically used for fishing, and American anglers tend to put carpet on them. Although it might seem impractical, it is a great way to preserve floors, so today, we are going to take a look at the best Bass boat carpets for glue down & snap in applications.
Apart from being a great aesthetic improvement, Bass boat carpets are also good for your safety since boat floors can be very slippery, and carpets will prevent you from accidentally injuring yourself. However, choosing the right product is not easy, so we researched and came up with a list of some of the best-reviewed ones. So, without further delay, let us get into it.
List of Best Bass Boat Carpets for Glue Down & Snap In Applications
1. Attwood 11246-1 Weather Resistant Marine Carpet Material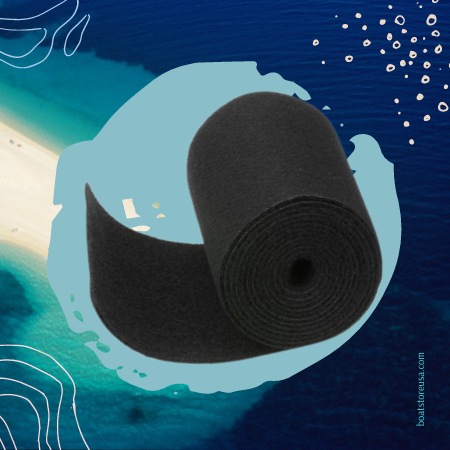 This amazing cover is a product that comes from the Attwood store and is wide enough to cover huge surfaces on Bass boats. This carpet has an acrylic backing that will easily grip any surface and keep it protected from physical damage and stains.
The thickness and quality of the carpet are very nice, and it is eight inches wide and comes in a 12-foot-long roll. You can use an adhesive and air-powered stapler to make the whole installation process much faster. Apart from the boats, this product is excellent for a wide variety of applications.
It comes in a charcoal color and is available for more than an affordable price. This carpet effectively protects boat hulls and makes loading and launching much easier. The carpet is made of weather-resistant polypropylene, so it will surely pass the test of time and various environmental conditions.
2. Marine Outdoor Bass/Pontoon Boat Carpet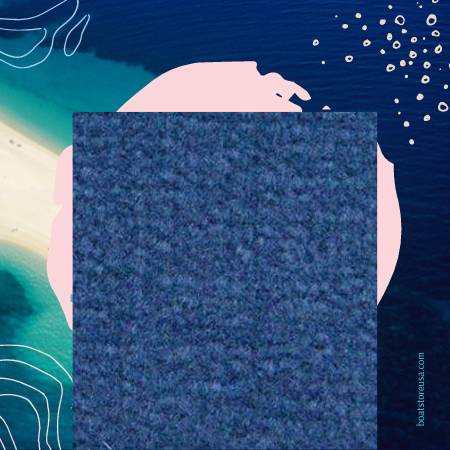 Quality and thick, this Bass boat carpet comes from the Restore Pontoon/Boat Carpet Central store and is available in twelve different colors and four different sizes for you to choose from. Although it does run a bit hot on bare feet when exposed to the sun for a longer period, it is weather-proof, and the price tag is adequate considering the overall quality.
The carpet features a rubber back, so it is highly resistant to UV rays, tangles, and fading, contributing even more to quality. Another great thing is that it is non-flammable, too, so in case you cannot grab your fire extinguisher timely, you will avoid some potential disaster in case of a fire.
This product is designed for a glue-down application, so you will have an easy time installing it. It is made of top-notch materials and has all the characteristics to give you longevity and long-time protection for your boat floors. Such outstanding quality and excellent price are definitely the reason to check this carpet when you get a chance.
3. Happybuy Gray Marine Carpet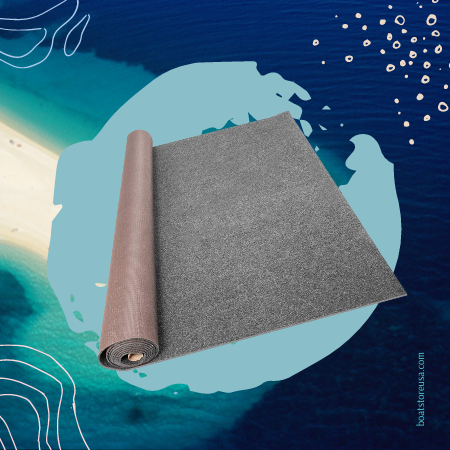 Coming from the Happybuy store, this outdoor carpet is a perfect solution for Bass boats and various other applications as well. It is available in six colors, so you will have different options to go for depending on the color and design of your boat.
You can also pick different dimensions, so in case you need to cover bigger surfaces, you will find the suitable size without any issues. The carpet itself is made of polyester fiber and is highly durable, sun-proof, and wear-proof, making it very durable in different environmental and weather conditions.
The carpet also features a backing layer made of water-proof TPR, which can effectively stop water from penetrating into it. Apart from a boat, this product is great for other applications, such as kitchen, bathroom, patio, porch, or any other place you can think of.
4. Marine Carpeting 20 oz. Do-It-Yourself Boat Carpet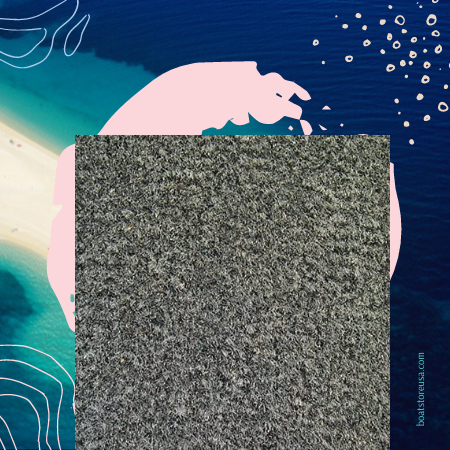 This cushy and spacious carpet for boats is a product coming from the Marine Carpeting store. Available in eleven colors and a variety of sizes, you can pick the perfect sizing and shade for your boat and make it look visually appealing as much as it will be protective for your boat floors.
This is a glue-down carpet, so you will be able to install it fairly quickly. Overall, it is a very thick carpet with great texture and seems very durable and protective. The one downside is that the product arrives wrinkled, so you will need a carpet roller to smooth it out.
In addition, this carpet is water-proof and is highly durable in various environmental and weather conditions. The carpet is made of top-notch polypropylene, so it is also stain-resistant and great for outdoor uses. It is a great marine carpet that looks and feels comfortable and is well worth the price.
5. Carpet by the Foote, 16oz Boat Trailer Bunk Carpet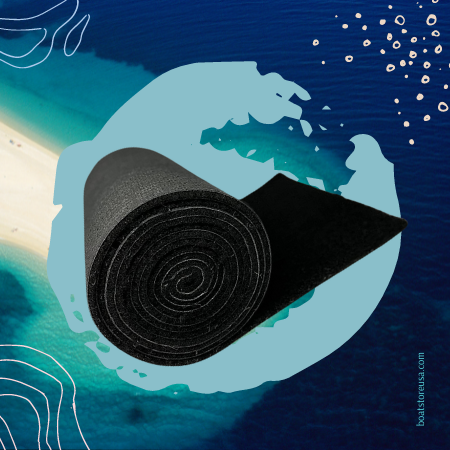 This carpet is a great solution in case you are looking for a cost-efficient and effective boat carpet since it comes with a fairly low price tag and looks really good. It is twelve inches wide and twelve inches long and comes in black color, so you get suitable dimensions and visual appearance.
What separates this product from the rest of the pack is its superior rubber backing and excellent UV resistance that contribute to the overall durability of the carpet. It is made of soft and cushy polypropylene and is extremely pliable and easy to cut.
The look and weight of the carpet are superb, and it holds great in various weather conditions. The fact that you can easily clean it is another big plus in the pros column, and when you consider the price and the value you are getting, it is a really good bargain.
6. Hjdeck EVA Foam Boat Flooring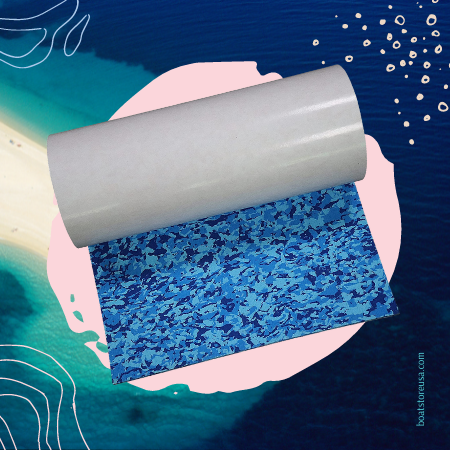 This boat carpet is an excellent cost-efficient solution for boat owners, made of EVA foam and available in ten different colors and different sizes. This product comes with numerous advantages, such as great cushioning, sound absorption, shock absorption, weather resistance, and many more.
It is also very safe flooring due to its amazing traction and non-slip properties. It is also visually appealing, and since you can choose from multiple colors, you will get a new and fresh look to your boat for more than an affordable price. The flooring is also very easy to clean with a vacuum cleaner, or you can pressure wash it.
The great thing about this product is that it is very practical and great for a variety of applications. The installation process is very fast, and you will do it without much hassle. The material is thick enough to grant superb coverage but not too thick to become hard to work with.
7. BISupply Outdoor Polyester Marine Bunk Carpet for Boats Trailers or Jet Ski Ramps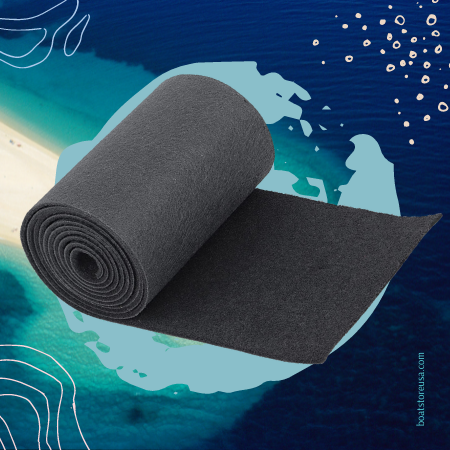 Cost-efficient and highly effective, this product comes from the BISupply store and offers you superb coverage for boats, trailers, or jet ski ramps. It provides excellent traction and is very easy to install. Moreover, the price does not do this product justice since it feels and looks much more expensive than it actually is.
This carpet is made of fast-drying polyester material, allowing it to withstand various environmental and weather conditions, which is a piece of great news for all the boat owners interested in this product. When you fully unroll this carpet, it measures 13 feet in length and 12 inches in width, which is suitable for numerous applications.
The material is really good; it is not thin and does not fray apart, which is the case with some of its counterparts that come at a similar price. This product is particularly suitable for bunks, and it will surely serve you longer than other carpets in this price category.
8. House, Home and More Indoor Outdoor Carpet with Rubber Marine Backing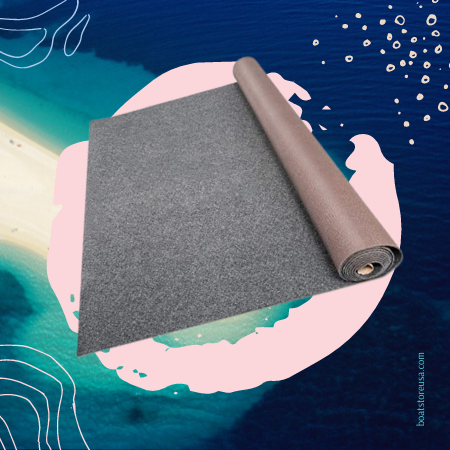 Coming from the House, Home and More store, this outdoor carpet is a perfect solution for every boat owner that is a bit tight on the budget and wants to cover the floors efficiently. This carpet offers exceptional coverage and performs well in different weather conditions.
The manufacturers used polyester in this product, which proves to be one of the best solutions for boat carpets in the industry. It is a material that is highly resistant to mold, and the carpet itself is fairly easy to install and maintain. The polyester is also resistant to water damage, so it is safe to say that this carpet is ideal for a boat.
The carpet comes pre-cut at 6×10 feet, but since there are multiple sizes available, you can pick the one that will suit you best. Moreover, it is available in gray color only, but this should not be an issue for sailors and anglers out there. Budget-friendly and efficient, this carpet is well worth checking out.
9. BoatCarpetSales 16 Oz Cutpile Boat Carpet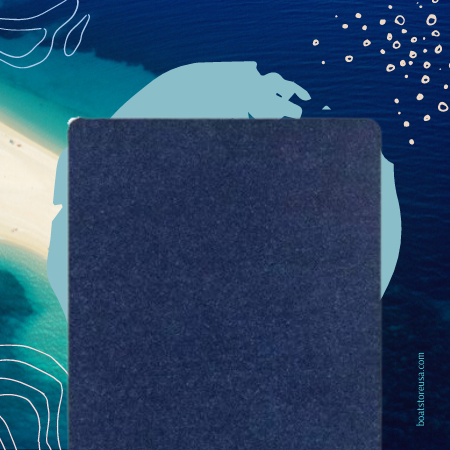 This boat carpet is a product from the Boat Carpet Sales store, and you can choose from twelve different colors. The material and other major features of this product are top-shelf and provide exceptional coverage for all boat owners out there.
The carpet is made of polypropylene, meaning that it is highly durable and will not wear easily in wet environmental conditions. What makes this product really good is the fact that it can handle a lot of foot traffic, and it is ideal for boats that are frequently used and have multiple passengers.
This carpet is also highly resistant to mold and mildew and does not absorb much water. It is very convenient since you will not have to spend too much time on maintenance. A cool breeze and short exposure to the sun will be just about enough to dry it. It is also UV-stable, so you will be able to keep it exposed to the sun's rays for an extended period.
10. Value Carpets Marine Grade Boat Carpet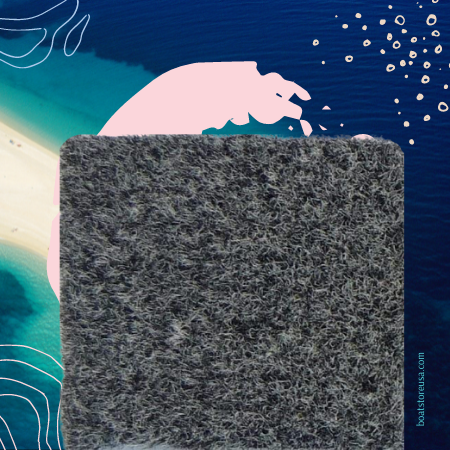 Available in seven colors for you to choose from, this marine-grade boat carpet will spice up the mood in your boat and grant you excellent coverage. This product is made of UV-stabilized, moisture-resistant polypropylene, meaning that the water and the sun will not damage it long term.
This carpet dries fairly easily, which is very important for the prevention of mold and mildew build-up. Moreover, it is very simple to clean it, so you will be able to sit back and relax on your boat rides without worrying about maintenance. Another great thing worth mentioning is this carpet's rubber backing which provides superb stability.
Given all the attractive features this carpet has, it is great for other applications and can be great as a bathroom carpet as well. The rubber backing ensures that the carpet is firmly attached to the ground and will not slip. Great value and great price.
Things to Consider When Purchasing Bass Boat Carpets for Glue Down & Snap in Applications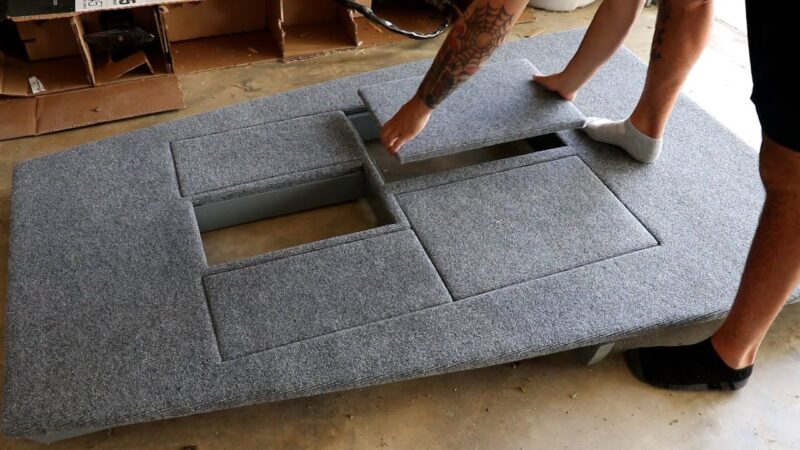 Now that we have concluded the list of the top products, it is time to look for tiny details that make an excellent Bass boat carpet. The market is full of various types of products of this nature, so picking the right one may be tricky. To help you make the right choice, we have put together a brief list of guidelines you should read before spending money.
Material
The material of the carpet says a lot about the overall quality, durability, style, and price. When picking the ideal carpet for your boat, it is important that it is made of materials that are resistant to mold, mildew, shedding, staining, or any type of water damage. Opt for carpets that are made either of polypropylene or polyester, as they are a great fit for boat appliances.
Backing
Picking the carpet with a quality backing is very important since it is the backbone of the product and keeps it in place once installed. Purchase the carpet with either rubber or vinyl backing since both of these materials are very thick and will make the surface cushy.
Style
Although performance bears high importance when purchasing boat carpets, some customers tend to buy them to improve the interior design of their boats. Luckily, most of the products we have listed come in various colors and textures; you will be able to stylize your boat and get the carpet that will complement its interior.
Texture
The texture of the carpet is an aspect that people often overlook, but it bears huge importance, especially if you spend a lot of time on your boat. Many cheaper rugs often have very unpleasant textures and feel very uncomfortable on your feet.
This is why you should opt for more pleasant ones; they do not have to be luxurious like the ones you use in the bedroom, but comfy enough to walk on them for an extended period during your stay on the boat.
Maintenance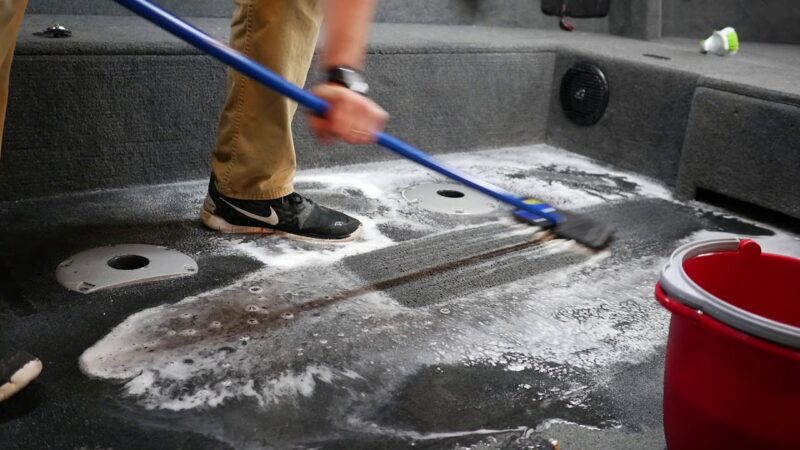 Keeping your carpet clean and well-maintained is very important. The better you maintain it, the longer it will last and the better value you will get for your money's worth. That being said, you should opt for carpets that are easier to clean and do not require much time to maintain, especially if you spend most of the time on your boat on fishing and relaxing activities. When cleaning these carpets, avoid harsh chemicals such as bleach, as they can damage the fabric and shorten the lifespan of the product.
Resistances
When picking the carpet for your boat, it is very important to take environmental and weather factors into consideration. Make sure that the carpet you are about to purchase is resistant to UV rays, mold, mildew, stains, and water damage.
Durability
Boat carpets take a significant amount of abuse since they are often exposed to things such as dirt, oil, or foot traffic. To ensure that your carpet lasts for an extended period, pick the one that is resistant to wear and tear and that can withstand heavy foot traffic.
Frequently Asked Questions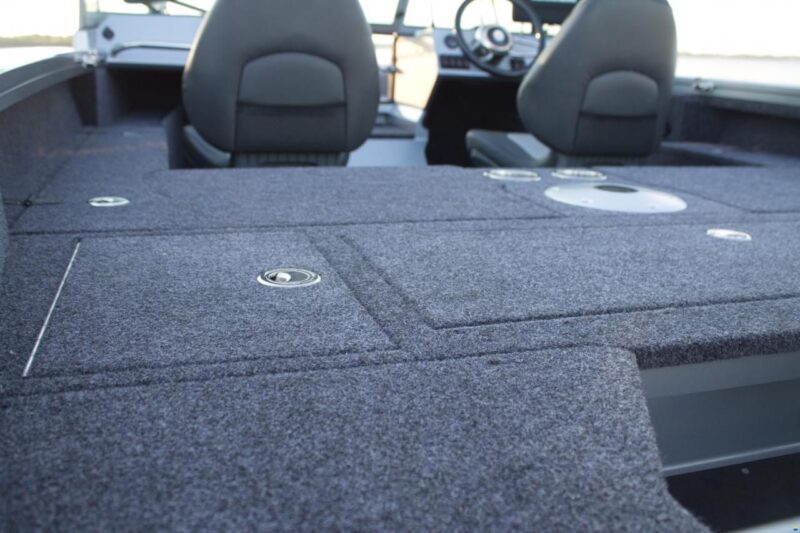 Are boat carpets waterproof?
Absolutely. These carpets are specifically manufactured to withstand the wet conditions that boats offer. They are typically made of materials that are waterproof or at least water-resistant and prevent the build-up of mold and mildew.
How long can a Bass boat carpet last?
The longevity of boat carpets entirely depends on the quality of materials and the frequency of cleaning and maintenance. To get this right, make sure to read the manufacturer's manual, which should describe the whole cleaning and maintaining process and the best way to do so without damaging the fabric.
How to ensure that the carpet I am buying online is the same as the one displayed in the picture?
The best way to do this is to ask the manufacturer to send you a sample to check it out. This way, you will be able to check the quality of materials and see if the color is the same since photos on websites can be deceptive at times.
What materials are best for Bass boat carpets?
Typically, the best boat carpets on today's market are made of synthetic fibers such as polypropylene. Polyester is another great solution for this type of carpet. EVA is also a safe and quality option to go for.
How many ounces of carpet is suitable for the Bass boat?
The best options for the Bass boat are carpets that are between 16 and 20 ounces, as they are plush, thick, and very comfy.
Final Words
The boat carpets are an excellent way to elevate the functionality, safety, and aesthetics of your boat floors. Installing such a product will not only protect the floors of your precious boat but will also make your feet feel more comfortable and spice up the atmosphere and add new colors to the interior.
We hope our guide will provide you with a sufficient amount of information to help you make the right choice. In case you are still uncertain of which one to pick, consult our list of top picks and look for second opinions and customer ratings, as they will only assist you in purchasing the best product for your money's worth.