Cruising with your own boat is an activity that can be very relaxing and entertaining, especially when family and friends surround you. It is a way to spend some quality time on your vacation or day off. However, maintaining the boat can be potentially problematic, especially if you do not have the best boat waxes for boat detailing at hand.
The boats are generally big, making them hard to keep in tip-top condition. It is also time-consuming to make the rides safe. The thing that boat owners can always do to prevent the damage is to apply cleaner wax which adds a protective layer to the boat. You can purchase various waxes in today's market, and today, we are going to take a look at some of the best among them. So, without further delay, let us get into it.
List of Best Boat Waxes for Boat Detailing
1. Collinite No. 845 Insulator Wax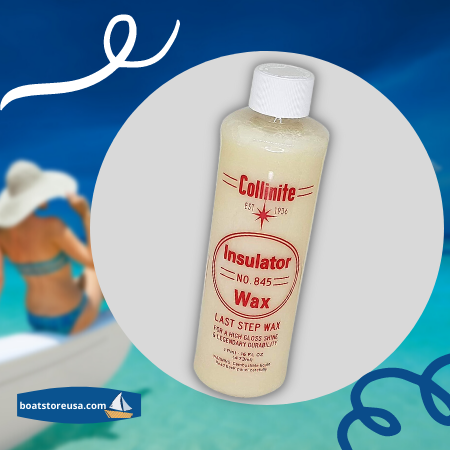 Collinite No. 845 wax comes in an old-school package in a plastic bottle with no fancy decorations and says clearly what it is and what it does. It has a very strong chemical odor, which is something that does not really matter since this detailing product does an amazing job for various appliances, including boats.
The content of the bottle is quite concentrated and pasty, and one squeeze of the bottle will yield a lump of wax on your applicator pad. The product spreads across the surface incredibly easily and offers amazing results with minimum effort, which is really important.
This wax grants superb shine to your boat. To get the best results, before using the product, put it in a cup and run it under hot water for roughly 5 minutes, or just put it in the sun. Afterward, shake the bottle really hard, and squeeze the product out on the applicator. You will be amazed by the results, and when you remember the low price tag this product came with, you will likely never look back.
2. Turtle Wax 53409 Hybrid Solutions Ceramic Spray Coating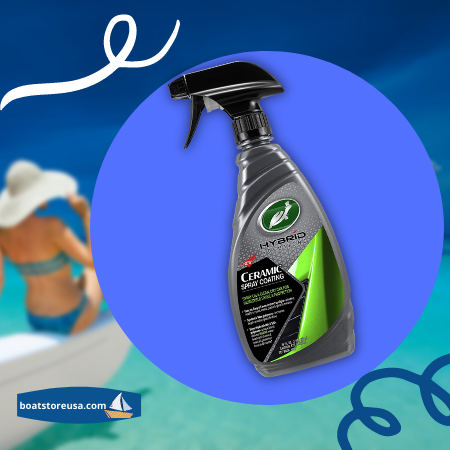 Coming from the Turtle Wax store, this detailing product offers amazing results and is particularly effective in removing water spots that may remain on your boat's surface after you wash it. It is a product that is quite easy to use and comes with an affordable price tag.
This cleaning wax comes with a fruity scent and delivers high-gloss shine with a protective coating that can last up to 12 months, depending on the conditions your boat is exposed to. What separates this product from the pack is the fact that it is truly easy to apply, as is stated in the description the manufacturers provide.
The protective coating works amazingly and sheds water from the paint efficiently same as some other higher-priced products would do. When you consider the price this wax comes at, investing in it is painless and effective, and you should definitely check it out.
3. Lucas LUC10160 Oil 10160 Slick Mist Speed Wax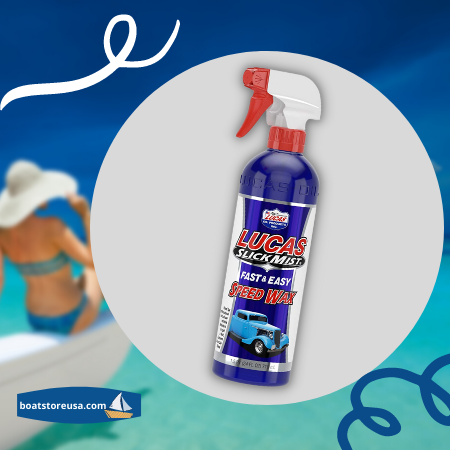 This 24-ounce bottle of wax does an exceptional job in detailing various surfaces, and it is suitable for cars, boats, and similar vehicles. It performs excellently and will not harm leather, rubber, plastic, or aluminum surfaces due to its amazing formula.
The application is very easy, and all you need to do is spray the product on a wet or dry surface and just wipe it off. The results are amazing, and the wax leaves your finish slicker and shinier than most competitive products.
Lucas Slick Mist Speed Wax is quite a versatile product that can be used as a traditional wax, a detail spray, or a quick polish. You can apply it on multiple surfaces such as chrome, glass, and vinyl. It can also be applied on painted surfaces without damaging them. A great product for a great price.
4. Boat Juice – Exterior Cleaner – Ceramic SiO2 Sealant – Water Spot Remover – Gloss Enhancer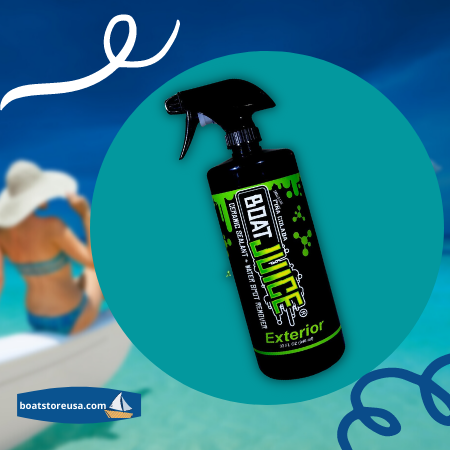 This exterior cleaner with SiO2 sealant does an excellent job in removing water spots and contributes to amazing gloss on various surfaces. After only one application, you will get a beautiful shine on your boat, car, or any other vehicle.
It is a fantastic product that does not require elbow grease to apply or remove. Applying this detailing product is also fairly simple. All you need to do is spray it and wipe it off, and you will instantly notice the amazing results the product delivers. Apart from that, it also makes cleaning your car in the future much easier.
One downside of the product is a cheap "island fresh" scent, but it is a minor drawback since, detailing-wise, it outperforms a lot of products in the price range. Overall it offers a great shine throughout the inside and out of your boat. It is well worth checking out.
5. Meguiar's M5016 Marine/RV One Step Cleaner Wax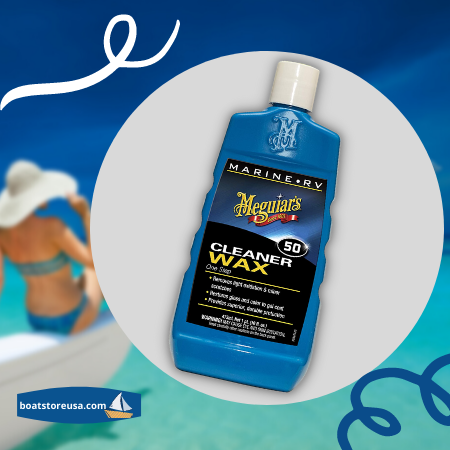 The M5016 Cleaner Wax is another great detailing product coming from Meguiar's store. To get the best results from it, you are required to wash and dry your boat first. Apply the product to a foam pad applicator and rub on one section at a time.
This product effectively gets rid of light oxidation, haze, slight scratches, and swirls. Moreover, it provides durable, long-lasting protection against salt, corrosion, and the sun's UV rays. You will get a beautiful glossy finish after just one application.
It is an excellent detailing product that goes on and off very easily when compared to other wax combos available for this price. Since it is a light cleaner, so if you have any type of water spots, it will easily remove them, alongside dirt on the surface. It is a handy product for small cleaning jobs around the boat and performs at the well-known Meguiar's level.
6. STAR BRITE One-Step Premium Cleaner Wax With PTEF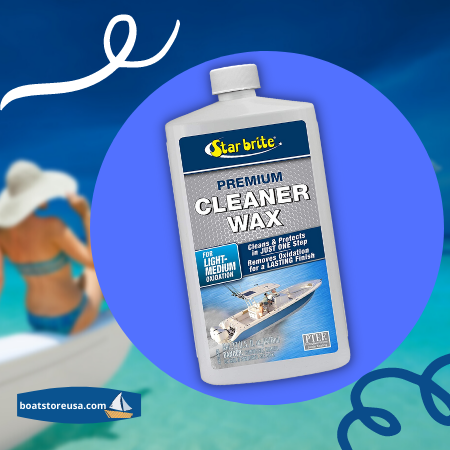 Coming from the Star Brite store, this heavy-duty detailing product is specifically formulated to remove oxidation and hazing from painted surfaces or fiberglass. This oxidation often occurs due to hot sun, cold winter, or rain. It is very convenient and easy to apply and remove.
To get the best results out of this product, protect the restored finish with a coat of Premium Marine Polish. It is also very effective in removing all types of dirt, and after an appliance, it leaves a glossy shine regardless of the surface you are applying it on.
The product makes the boat look very clean and slick. It is ideal for aluminum-painted boats, but there is a small drawback to this product since it does not apply evenly when temperatures are below 55 degrees, so make sure to do your detailing in the appropriate conditions.
7. Boat Bling Quickie Sauce Premium High-Gloss Fast Wax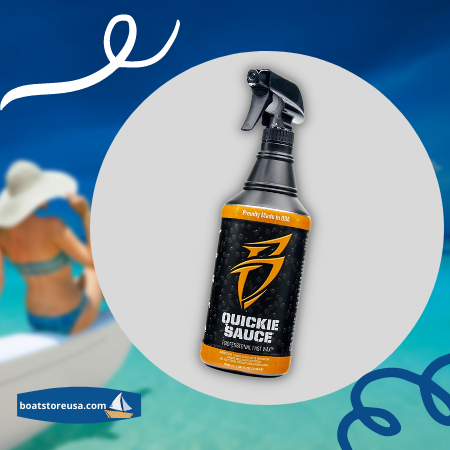 This product delivers high gloss on pretty much any surface on your boat, while it also performs very well as a boat cleaner. It is highly effective for removing various stains, dirt, and mold and largely contributes to your boat's aesthetics due to its amazing glossy effect.
It comes as a big surprise that this product cleans boats without any use of bleach since the formula is similar to traditional paste wax. This wax also boasts a protective layer, which is excellent for extended protection for longer trips.
When you want to store your boat during winter, it is wise to apply this wax before you do it since it will protect its surface from various environmental conditions. You can also apply it if you are a sailing fan since it also provides protection from the sun's UV rays. It is a great product that is well worth checking out.
8. 3M Perfect-It Boat Wax, 36113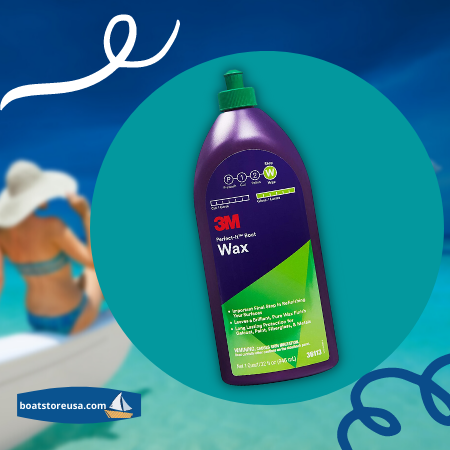 Coming from the 3M store, this detailing product is suitable for various appliances and highly effective for cleaning and protecting your boat. This product does an excellent job of cleaning boats that are left sitting for an extended period. They tend to accumulate high levels of lime, and this is where 3M 36113 jumps in.
It is dependable wax that can make even some older boats look almost brand-new. The product is highly effective against oxidation since it erases it effortlessly. If your boat is in good condition, there is no need for cutting and buffing, which is very convenient.
Another great thing about this wax is that it is gentle on your nose and does not have a strong and unpleasant odor. There is no discoloration after extended use, which you will be able to see by the end of the summer season. It is much better than any ceramic-type wax spray and comes at an affordable price.
9. 303 Marine Quick Wax – Quick And Easy Spray-On Wax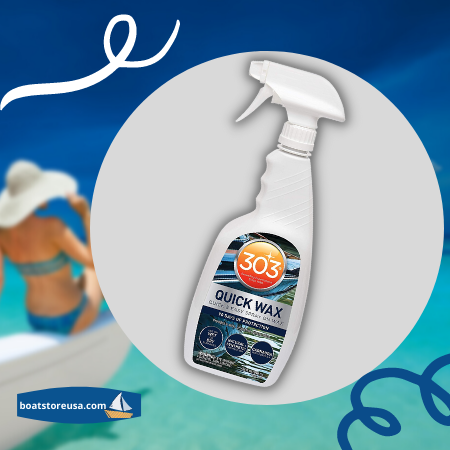 The 303 Marine Quick Wax is an excellent choice if your boat needs cleaning as much as it needs protection from damaging UV rays. Since it has Carnauba wax in its formula, you will be able to get that glossy, gleaming look on the surface of your boat.
It can be applied on dry and wet surfaces and used on fiberglass, plastic, and metal surfaces, but it performs best on a fiberglass gel coat boat. Make sure to wash, dry, and clean your boat properly before applying this product, and you will get a jaw-dropping glossy effect.
The wax spreads evenly regardless of environmental conditions, and with the help of a cloth, you will get the desired shine through and through. It is recommended to use an electric buffer to finish the waxing process fast and effectively. The outcome is truly satisfying, and if you are still uncertain if you should give this product a chance, check the low price tag, and you will know it is worth a try.
10. Meguiar's M6332 Flagship Premium Marine Wax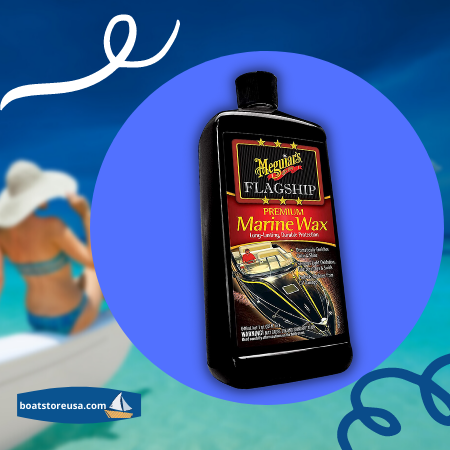 If you are experiencing mildew and oxidation issues on your boat, this wax is the product to go for since it removes various build-ups with ease. Moreover, it does not just remove the oxidation, but its formula does an excellent job of keeping it from coming back.
It does a superb job in providing long-lasting protection to gel coat and fiberglass surfaces. In addition, it leaves a shiny and glossy effect, which is something that everyone wants out of boat detailing. You will be surprised just how vibrant the colors on your boat will look after thorough detailing with this product.
Aside from being suitable for boat waxing, this product is also useful for the shower and other types of vehicles such as RVs and regular cars. Applying this wax is super easy as long as you know what you are doing. The manufacturers recommend using speed polishers, but microfiber will work well just as same.
Things to Consider When Purchasing Boat Waxes for Boat Detailing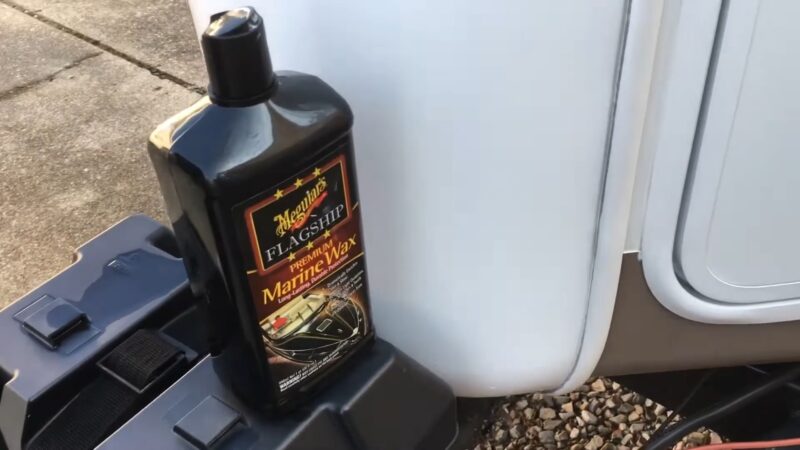 Today's market is packed with various cleaning and detailing products, so much that the choice of the appropriate one can present itself as a struggle more often than not. Although it is a bit overwhelming, it is not an impossible choice, and we are going to help you with that. In the section below, you will find a list of directions to follow when browsing for boat waxes.
Type of Boat
When picking the detailing product, it is essential to think about the boat on which you will apply it. Different hulls are made of different materials, meaning each has different waxing requirements and quirks. There are products that are suitable for gel coat, fiberglass, or metal, so choose accordingly.
Ease of Application
Since there are different types of applications for different detailing products, it is important to choose the one that is easy to apply, especially if you are a beginner. It will save you some time and a lot of hassle. Another important thing to think about is the size of your boat, which will determine how much time you are required to finish the job.
Oxidation Cleaning
One of the main causes of oxidation is UV rays. These rays produce a chalky, porous texture on the boat's surface and slowly break down protective layers. Apart from aesthetics, UV rays also impact the lifespan of your boat, so it is essential to pick the wax that can clean oxidation effectively.
Quality and Durability
It is essential to buy only quality detailing products for your boat. When browsing for such products, you should not be solely focused on the shiny and glossy finish but on durable and long-lasting protection as well. Some products will give you a nice shine, which will wear off quickly, so make sure to do thorough research before spending money.
Frequently Asked Questions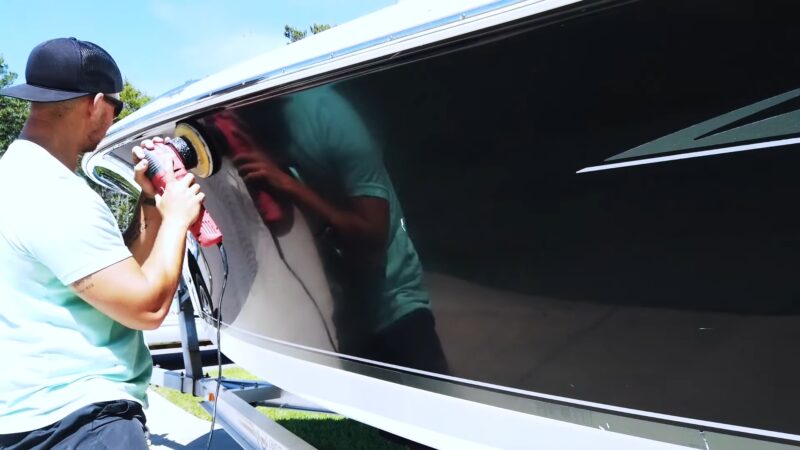 Should I wax or polish the boat first?
It is essential to do polishing first since it is an essential preparation process before waxing the boat. In order to make the waxing process effective, the boat needs to be polished and thoroughly cleaned from oxidation marks and dirt.
How often should I apply the boat waxes for boat detailing?
The frequency with which you wax your boat depends on multiple factors, including how much wear you expose your boat to on a daily basis. It also depends on the detailing product you are using since different formulas require different frequencies in the application.
What will happen if I use boat wax for the wrong material?
Using boat waxes that are not compatible with the surface you are applying them on will give you unsatisfactory results. Moreover, the finish will not be long-lasting, and you will be forced to reapply the product more frequently.
Are boat waxes and car waxes the same?
No, they are not. Boat waxes carry chemical compositions that are suitable for combating the specifics of the boat, such as water immersion, mold, prolonged exposure to UV rays, and more extreme temperatures. Boat waxes also grant results with common marine materials such as fiberglass, while car waxes accommodate the needs of the open road.
How and when should I apply boat waxes for boat detailing?
The first thing you should do is wash your target areas thoroughly and get rid of any dirt and debris. Afterward, leave the boat to dry and then apply the abrasive cleaner to get rid of oxidation and corrosion and dry the target surfaces again. After this process, you are ready to add boat wax.
Final Words
Maintaining your boat regularly will not only affect its visual appearance but safety and longevity as well. Since your boat is exposed to sunlight, saltwater, and different weather conditions, it is important to create a cleaning habit as it will prolong the lifespan of your boat and the overall quality of your sailing experience.
We hope our guide provided enough information to help you make an educated choice in boat wax purchase. If you are still uncertain which one to pick, revisit the section of our top picks and seek second opinions, as this will surely help you get the best value for your money's worth.